---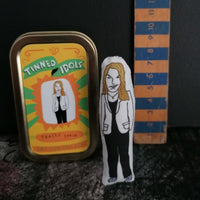 Multi media artist Tracey Emin, best known for her autobiographical and confessional art, is an idol to be reckoned with. 
Going from "enfant terrible" of the Young British Artists in the 1980s to become a Royal Academician is proof that we need loud, opinionated female voices. 
This mini fabric doll of Tracey Emin comes in a storage tin so that Emin can be safely stowed in your pocket or bag or displayed on your shelf.
Tracey Emin is also available as a monochrome screen printed doll and a Sew Your Own Doll Kit.
Each idol is hand made by Fat Hen And Flo in our often sunny studio on the south Kent coast in the UK.
Tin Size:
9.5 x 5.5 x 2.5cm
Idol Size:
9 x 3 cm approx