---
Pop culture gifts at Fat Hen and Flo
Your favourite idols, celebrities and characters from pop culture, music, TV and film as illustrated gifts. Sewing kits, plush fabric dolls and mini doll Tinned Idols are the ultimate gift for super fans.
---
New For 2023
The start of 2023 has been busy with so many new idols being designed and launched. Check out the newest idols. Music fans will love Freddie Mercury, PJ Harvey and Robert Smith. There's something for art lovers with the iconic Jean-Michel Basquiat. Fashion enthusiasts will love designers Vivienne Westwood, Patrick Grant and Esme Young. And we can't forget Pedro Pascal who is enjoying a moment of being, quite possibly, the biggest thing on the internet. If you haven't seen a Pedro edit on Tiktok you are missing out!
New Idols
Stormzy, PJ Harvey, Vivienne Westwwod, Pedro Pascal, Basquiat, Freddie Mercury.
Patrick Grant, Esme Young, Noel Fielding, Robert Smith, Madonna.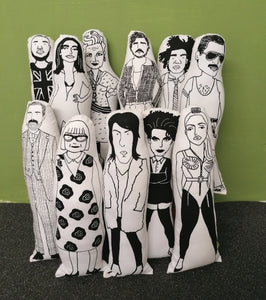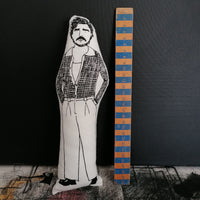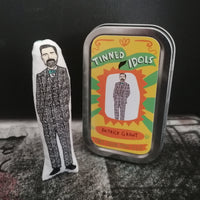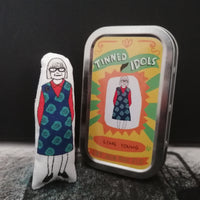 ---
Craft Kits
These screen printed idol sewing kits are perfect for all skill levels. If you are a beginner at sewing the super easy to follow instructions will guide you through to help you make your very own celebrity doll. For the more experienced crafter you can go to town on your embellishments or embroidery. These kits make a perfect gift for every pop culture fan.
Sew Your Own Idol Kits

Sew your very own doll or decorative pillow of your favourite idol, celebrity or character from pop culture, music, TV or film with these easy to sew kits.

Buy Kits
---
Pop Culture Collectibles
The perfect gift for pop culture super fans. Theses mini fabric idols come in a keepsake tin which will look great displayed on the collection shelf but also makes the mini idol perfect as an on the go idol companion. Why should kids be the only ones to keep cool things in their bags!
Tinned Idols
You probably didn't know that you needed a mini doll of your favourite idol in it's very own tin. Small enough to live in your pocket or desk drawer to get you through the day. Perhaps mini Kate Bush is singing along to your playlist or maybe mini Malala Yousafzai is helping your anxious child from inside their backpack whilst at school.


Buy Tinned Idols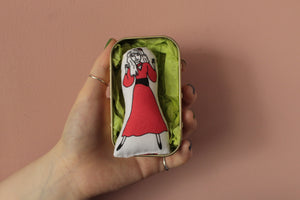 ---
Pop Culture Dolls
These adorable screen printed fabric dolls of your favourite pop culture hero, musical idol or feminist icon make perfect inspirational gifts for little kids and wonderfully huggable dolls for big kids. You might not realise that your Dad needs a Louis Theroux doll because he probably doesn't even know it himself yet. But trust me, he'll love it.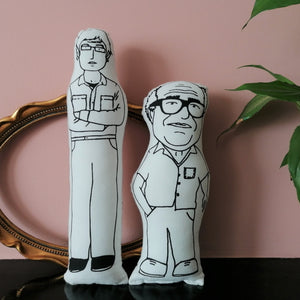 Monochrome Idol Dolls
Your favourite idol as a screen printed fabric doll. These idols come ready made for you to display, play with, hug, get the pens out and colour it! These dolls are perfect for big kids, little kids and super fans alike.
Buy Idols
---
Colourful Toys at Fat Hen And Flo
As well as idols we also have a range of colourful illustrated toys for kids, big and small. Inspired by the nostalgia of childhood and the importance of encouraging imaginative play these dolls and cushions are designed to evoke storytelling, imaginative play and be a friend to share secrets and adventures with.
Pocket Pets and Friends
These pocket sized pets and friends, available in monochrome and colour versions, are an ideal gift for imaginative play and anxious souls. Not just for little kids either, big people also need a pocket sized cat. Or bee. Or bear even. Because, let's be frank, who doesn't want a tiny bear that can live in their pocket.
Buy Pocket Pets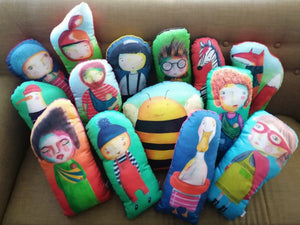 Nursery Decor
These oversized stuffed doll cushions are perfect squishy companions for imaginative play or beautiful nursery cushions. But don't let the kids have all the fun. Lari the Seagull or Bombus the Bee will look just as fabulous on your sofa or bed.
Buy Nursery Decor
Whimsical Friend Dolls
Whimsical friends are designed with fond childhood memories as the inspiration. These character dolls and their animal companions are our imaginary friends and the reluctant family dog endlessly dressed up as the super hero sidekick. Watercolour illustrations are made into vibrant and soft digitally printed cotton which is made into these cute soft friends.These are the perfect gift for little hands and big imaginations.
Buy Whimsical Friends