---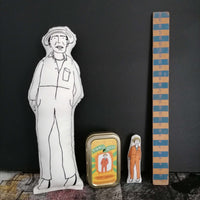 Celebrated iconoclastic filmmaker Derek Jarman as a screen printed fabric doll is the perfect gift for your artist, writer, thinker friends.
The doll is a screen printed version of our Derek Jarman illustration inspired from his gardening days at Prospect Cottage at Dungeness and stands approximately 30cm high. It is filled with poly toy stuffing.
This doll is also available as a Sew Your Own Doll Kit and a Tinned Idol.
This doll was designed and printed in the Fat Hen And Flo studio on the often sunny south Kent coast in the UK.